Best
Which is the Best Smartwatch in India
Best Smartwatches in 2022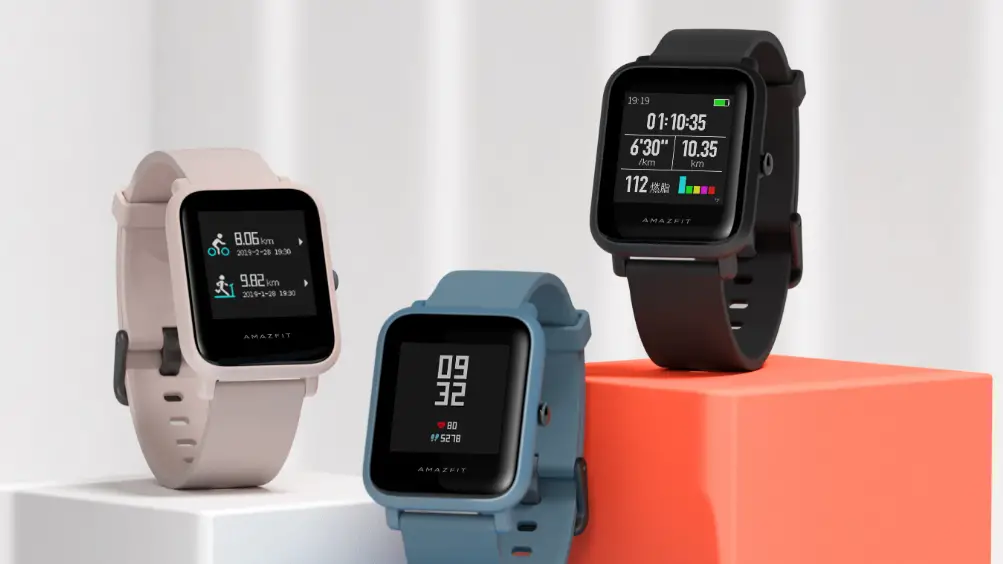 Read Time:
7 Minute, 45 Second
Do you really know Which is the Best Smartwatch in India? this guide will help you to choose the best smartwatch in India. Smartwatches have been around for a while, but they are still very new within the consumer market. They've gained popularity among fitness junkies, executives, and everyone in between.
To make things easier, we've listed the top 8 best smartwatches that are available in the market.
Which is the Best Smartwatch in India
Apple Watch Series 7

Samsung Galaxy Watch4

Amazfit GTR 2e SmartWatch 

GOQii Smart Vital Fitness SpO2

Amazfit GTS2 Mini Smart Watch

Noise ColorFit Pulse Spo2 Smart Watch

Fire-Boltt Ring Bluetooth Calling Smartwatch 

boAt Xtend Smartwatch
A watch that packs in a few extra features, and a few fewer grams, too. The Series 7 Apple Watch is slimmer and lighter than the Series 6 and delivers some key upgrades, including an always-on display for checking your stats on the go (even when offline).
Furthermore, it offers more vivid color options, water resistance, and a blood oxygen sensor. If you can spend a large amount on buying a smartwatch then Apple can be the best option. There are no other competitors. So, I strongly recommend you to go for apple if you have a good budget.
Specifications:
Excellent build quality.

Health tracking system.

Big display size.

Email notifications.

Sleep monitor.

Multiple colors options.

GPS + cellular.

Different watch faces.

Smooth touch response.
BUY ON AMAZON
The Samsung Galaxy Watch 4 is a water-resistant watch, and it is highly durable with standard military durability. Further, you can track your sleep and more on an enhanced Super AMOLED display that has been slimmed down to save battery life.
The Galaxy Watch4 also lets you track stress levels throughout the day and provides breathing exercises to help you stay calm. As it offers so many features at a good price range. I don't think there is another brand that can offer this feature at this price range.
Specifications:
Wear operating system.

USB connectivity.

Sleep monitor.

Heart rate monitor.

Excellent design.

Bioelectrical Impedance Analysis Sensor.

90+ workouts.

Lightweight.

Different watch faces.
BUY ON AMAZON
3. Amazfit GTR 2e
The GTR 2e is an elegant smartwatch with a lightweight, ultra-slim design. It features an around 1.39″ AMOLED display with a versatile selection of replaceable straps and watch faces.
There's more to the GTR 2e than just style, it has 24-day battery life, built-in Alexa support, and health tracking that includes Sp02 and stress monitoring.
Specifications:
39 Inches display.

PAI Health Assessment System.

Stress Level Measurement.

90+ Sports Modes.

50+ watch faces.

Bluetooth connectivity.

24 hours battery life.

Stylish design.
BUY ON AMAZON
4.GOQii Smart Watch
The GOQii Smartwatch with body temperature and blood pressure tracker provides constant updates on your vital stats so that you can see the progress you are making towards your health goals.
The GOQii watch comes with a lot of premium features and three months of personal coaching. This watch comes in 3 different models with different features and accessories.
Specifications:
3 Inches display.

blood oxygen levels were monitored.

Heart rate tracking and sleep tracking.

Measure SPO2 levels.

Measures Body Temperature.

18 modes.

Different types of watch faces.

Excellent build quality.
BUY ON AMAZON
5.Amazfit GTS2 Mini Watch
The GTS2 mini is the perfect health companion with a new and improved 1.55″ AMOLED display, sleek design, and an array of smart features.
The smartwatch weighs only 15g, and it is a super lightweight watch that is simple to operate with gesture control, including easy-to-use buttons and 14 days of battery life with Sleep & Stress monitoring, 70+ sports modes, and built-in Alexa voice assistant, and GPS tracker.
Specifications:
55 Inches AMOLED display.

GPS

Multiple watches faces.

24 hours heart monitor.

PAI Health Assessment System.

70+ Sports Modes.

14 days battery life.

Lightweight
BUY ON AMAZON
6. Noise ColorFit Pulse Watch
This smartwatch comes with multiple features. This smartwatch is equipped with a 24×7 dynamic heart rate monitor, activity tracker, sleep monitoring, fitness and automatic step count, Spo2 calculating in-screen & app, and ten-day battery life.
This stylish smartwatch comes with 60+ watch faces for men & women, and you can choose from dailies, sporty, classic to luxury watch faces. It is also one of the best brands in mid-range smartwatches.
Specifications:
4 Inches display.

24 hours heart monitor.

Auto sleep tracking.

More than 60 watch faces.

8 sports mode.

10 days battery life.

Vibrant colors.

Excellent build quality.

IP68 water-resistant.
BUY ON AMAZON
7. Fire-Boltt BSW005
The Fire-Boltt Smartwatch is compatible with all Android phones and offers full calling functions, blood oxygen monitoring, and continuous heart rate.
With its 1.7″ display screen, built-in camera, and multiple watch faces, this smartwatch is a complete package of features at an unbelievable price.
With its elegant, stylish appearance, this smartwatch is perfect for everyday use and can be used by both men and women.
Specifications:
7 inches HD display.

Bluetooth calling function

Heart rate tracking.

Music control.

8 days battery life.

37 g weight.

Impressive build quality and design.

Looks premium.
BUY ON AMAZON
8. boAt Xtend smartwatch
Last but not least smartwatch is in our top 8 best smartwatches in India 2022 list. The boAt Xtend smartwatch is feature-packed with Alexa built-in, 1.69″ HD display, Bluetooth 5.0, stress monitor, heart & SpO2 monitoring, and more.
With up to 10 days of battery life on a full charge and with free access to Google Assistant and Amazon Alexa, the boAt Xtend Smartwatch is the perfect companion for your everyday needs.
Specifications:
69 inch LCD.

14 sports mode.

sweat resistance.

Heart rate monitor.

SPO2 monitor system.

Good build quality.

50+ watch faces.

Premium design.

Excellent brightness.
BUY ON AMAZON
My Recommendation:
When it comes to a recommendation, then we would always go with the Apple Watch Series 7 as it is the most premium and feature-packed smartwatch on our list.
However, you can go with any other smartwatch depending upon your budget and requirement, as most of the watches are great performers and feature-packed.
FREQUENTLY ASKED QUESTIONS:
1. Should we purchase a smartwatch?
It depends upon your requirement. If you need an update about your health every time then you should consider buying a good brand smartwatch.
2. Can we use a smartwatch in the water?
Yes, of course, you can use it.
3. Which is the premium brand for smartwatches.
Apple is one of the most premium brands available in the market.
4. Which is the Best Smartwatch in India?
Apple Watch Series 7 is the best smartwatch in 2022.