Best
Which is the Best Google Keyboard or SwiftKey?
Read Time:
5 Minute, 21 Second
Which is the Best Google Keyboard or SwiftKey? Typing plays a major role in enhancing your overall smartphone input experience. Most of us utilize the phones' built-in keyboards, but if we want to increase and boost overall productivity, we might require a better keyboard. Two of the best keyboard applications that have a ton of functions and are commonly used are SwiftKey and Google Keyboard. Both keyboard apps have some incredible features that our smartphones' built-in keyboards lack. If you're ready to switch from your existing keyboard app, you should review Google Keyboard vs SwiftKey Keyboard comparison to see which is a better fit for you.
Google Keyboard (GBoard) Vs SwiftKey Keyboard Features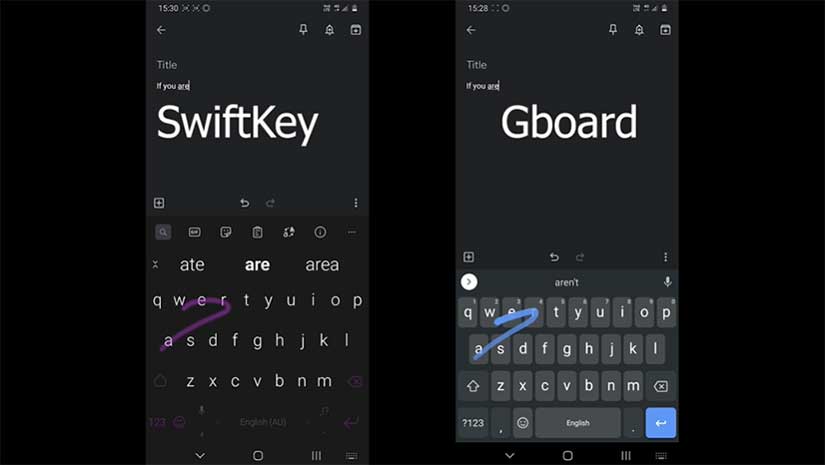 While the majority of the functions in the Google Keyboard and SwiftKey Keyboard are similar, there are a few variations that can be used in selecting the best keyboard application for our phone.
Built-in Search
Built-in search is one of the most powerful features of Google Keyboard (GBoard) and Swiftkey keyboard, but it's even better and more powerful when paired with GBoard's auto-completion feature.
Since Google has its search engine, the Gboard is better optimized for searches while chatting or while typing some important.
Built-in Google search in Gboard is a huge advantage, especially if you're someone who prefers to use the keyboard to search for information. With GBoard, you can just type, and it will bring up a list of results.
Emoji, GIF, and Stickers
Both Gboard and SwiftKey keyboard has many different emoji that are easy to access and have a mixture of different characters like pizza and sunglasses.
Both apps have GIFs that can be used as a replacement for text messages. While there are almost the same emojis and stickers available on both keyboards, the Gboard is slightly better in searching the GIFs online.
If you love to send memes to your friends and family members, you can use the GIF search feature to find out what you exactly need.
Glide Typing Vs Flow Typing
Glide typing is available on the Gboard, whereas flow typing is available on the SwiftKey keyboard. However, the Gboard is marginally superior in terms of accuracy.
However, as both of these keyboards continue to get better with time and the most recent updates, there is not much of a difference between them in terms of flow or glide typing.
One-Hand Mode
The One Hand Mode is a feature that allows you to use Google Keyboard (GBoard) and SwiftKey keyboard in one hand. When activated, it will automatically switch the keyboard to one-handed mode, which means that you can still use other functions of the phone with your thumb or finger.
GBoard and SwiftKey both have special one-handed modes that allow you to type more quickly with just one hand.
GBoard lets you swipe left or right to switch between one-handed and two-handed mode. It also has a "wind down" feature that lets you slow down the typing speed while typing on your phone's keyboard.
SwiftKey will let you toggle between single-finger and two-finger modes by tapping on the spacebar, but it doesn't have any additional features like GBoard's wind-down function. This is one of the best features.
Word Prediction
GBoard and Swiftkey are both predictive keyboard that learns from your typing. It offers you word prediction and autocompletes options, which means it will predict what words you are about to type in and suggest them for you.
This can be especially useful if you have a habit of using the same words over and over again. If you like to write long passages, GBoard and Swiftkey will be able to tell what kind of words you typically use and make suggestions accordingly.
In predicting the word, the SwiftKey keyboard is the winner as it predicts words with high accuracy.
Themes
Google Keyboard (GBoard) and SwiftKey keyboard both can add themes to your keyboard. These themes can be changed at any time, and you can even create your own. Themes are a great way to personalize your keyboard, and they're also fun.
In terms of themes and personalization, SwiftKey comes out on top. It features a variety of themes that you may install and customize to meet your needs. Gboard, on the other hand, has only 7-8 themes and does not allow for customization like the SwiftKey keyboard. You can choose a theme according to t ok your mood.
Custom Shortcuts
You can create custom text shortcuts with both keyboard apps. You can add not only words but also long sentences which you need to type again and again, which is such a convenience.
In the SwiftKey keyboard, the custom shortcut feature is easy to add and use, and it is easily accessible in the setting in comparison to Gboard. It is also one of the best features.
Advantages and Disadvantages: Google Keyboard Vs SwiftKey Keyboard
Google Keyboard (Gboard):
| | |
| --- | --- |
| Advantages | Disadvantages |
| Sync with Google Account | Not easy to use symbols |
| Excellent word predictions | No, undo feature |
| Easy to understand layout | |
| Stickers packs | |
| GIF search | |
| Swipe to delete | |
SwiftKey Keyboard:
| | |
| --- | --- |
| Advantages | Disadvantages |
| More customization | No sticker pack support |
| Easy-to-use interface | |
| Wide range of themes | |
| Better clipboard | |
Which is the Best Google Keyboard Vs SwiftKey Keyboard?
The SwiftKey keyboard by Microsoft is a better choice in our opinion as it is rich in features and has a better interface than Gboard. Moreover, this keyboard app has better AI, which predicts the words currently, and the auto-correction also works the best.
Conclusion:
In short, both the Google Keyboard and Swiftkey keyboard are great options for boosting productivity. However, when it comes to choosing the best one, then we would pick Swiftkey as our first preference due to its richness of features and customization options. On top of that, it has a wide range of themes to install and AI features for improving the overall typing experience.
Frequently asked questions:
Why we should prefer the Google keyboard?
Because google keyboard provides you with so many advanced features like spelling auto later, themes and so many other features that help in our daily life.