Read Time:
4 Minute, 15 Second
Only a few are knows What are the Pros and Cons of Touch Screen TV? TVs are evolving quickly. From flat-screen TVs to New sizes and functionalities, every modern tech is being added to stylish TVs. Many TVs today have touchscreen interfaces that let users swipe to explore content or zoom in with their fingertips.
A touch-enabled TV is an example of how technology has evolved from simple inputs to complicated user interfaces (UI). Touchscreen TVs make interacting with entertainment devices easy. They aren't perfect for every viewer, but they're a wise purchase for many. Let's examine touchscreen TVs' pros and cons.
What are the Pros and Cons of Touch Screen TV?
The Pros
Convenience & Comfort: The first and most common advantage of having a touchscreen TV is convenience and comfort. A smart TV offers comfort by allowing you to watch OTT and content with inbuilt support for online streaming apps.
One of the best things about touchscreen TVs is that you can search or type quicker than with a remote in hand and manually navigating the alphabet on the keyboard.
Portability: When compared to traditional TVs, touchscreen TVs are more lightweight and portable. Despite not being as portable as laptops or mobile phones, they are generally quite light.
Functionality: Touchscreen TVs will boast tons of functionality and modern features. For instance, you can show off presentations in your office, classroom, or at your home.
Moreover, you can express your ideas by creating doodles on the TV screen like a notebook or tablet. On top of that, there are endless possibilities when it comes to the features of a smart TV, especially when you are in the creative field.
Rich Colors: Most touchscreen TV panels will have rich colors, especially if it is from a reputed brand like Sony, Samsung, etc.
You need more contrast and colors in your touchscreen TV. Otherwise, you will notice little pixels on the screen if you come close to the TV panel, which will ruin your experience.
Minimal Power Consumption: Touchscreen TVs consume much less power than traditional TVs due to the fact that they come with a CCFT backlit display which saves 30 to 50% more energy than standard TV panels.
No Heat Emission: Because the touchscreen panel uses so less energy, it emits less heat than a standard LCD panel. So when you touch the screen, you won't feel hot.
Less Flickering: Touchscreen TVs are optimized with little or no flickering because if it flickers when you are standing close to it, the complete experience will be ruined.
The Cons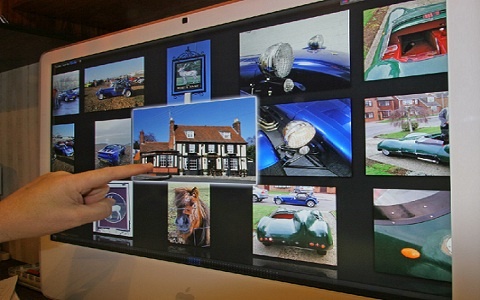 Input Lag: The main disadvantage of a touchscreen TV is input lag. It is the delay between when an input from the user is detected and when it is actually processed by the TV. It can lead to frustrating results, such as accidentally hitting the wrong button or being unable to see what you want.
Unavailability: Another con of buying a touchscreen TV is its unavailability. Most TV stores, shops, and showrooms don't sell touchscreen TVs as they are not generally bought by regular consumers. Hence, you will need to depend on online options only.
After-Sale Services: While local technicians can easily repair most smart TVs, it is hard to find the right spare parts when you buy a touchscreen TV. Moreover, the spare parts of a touchscreen panel are much costlier than a non-touchscreen panel.
Fragile: Touchscreen televisions use a sensitive surface specifically engineered to register the lightest of touches. However, as sensitivity increases, so does the risk of being fragile.
Touchscreen TVs are far more prone to breaking than regular TVs because of this. If your touchscreen TV screen becomes even the slightest bit cracked, it might declare the entire screen useless and be very expensive to replace.
Pricing: The most obvious disadvantage of a touchscreen TV is that it's pricier. A typical smart 32 inches can cost $150 or more. On the other hand, a 32 inches touchscreen tv will cost you around $500 or more.
The reason for this is that touchscreens are typically more expensive. On top of that, manufacturers have to optimize the operative system and user interface accordingly, which makes a touchscreen TV more expensive. Moreover, if you want a branded touchscreen TV, it will add up in the cost.
Frequently Asked Questions:
— Does the touchscreen panel have limited viewing angles?
Yes, touchscreen panels are supposed to be viewed from the front, so they have bad side viewing angles.
— What is the refresh rate of a touchscreen TV?
A touchscreen TV comes with a standard 60 Hz refresh rate.
Conclusion
You've probably heard about touchscreen TVs if you're interested in technology. Touchscreen TVs with intuitive interfaces are on the same track as touchscreen smartphones and tablets, but they're still new to the world. Touchscreen TVs will become increasingly common as technology improves. Touchscreen TVs are a wonderful choice for anyone who is looking for modern TV with advanced features.